Many firefighters received promotions or letters of congratulations at an official ceremony held at the La Savane Fire Station.
MARIGOT--An official ceremony to award stripes and helmets was recently organised at the fire station headquarters in La Savane in the presence of Préfet Vincent Berton, President of the Collectivité Louis Mussington, and senior officers and administrative staff of Service Départemental d'Incendie et de Secours (SDIS) of Guadeloupe, including the Deputy Director Frédéric L'Homme and Colonel Cléo Gumbs.
Some 14 men and women from the ranks of the firefighters were promoted.
The first of these was Cyril Pallud, who was promoted to the rank of Commandant. He was presented with his stripes by Préfet Berton. Cyril Pallud (45) of Guyanese origin, also received congratulations from the SDIS Deputy Director who described his exemplary career to date.
Patricio Heward, Jean Hodge and Justin Gibbs were also promoted to the rank of Chief Warrant Officer and Munier and Hunt to the rank of Staff Sergeant.
Already promoted to corporal after their professional firefighter training year in 2020, five non-commissioned officers had not yet officially received their helmets because of the COVID pandemic. Thus, Corporals Célia Daizey, Joudella Julius-Carti, Madhavi Mathouraparsad, Mickael Dellion and Arnaud Elmudesi officially received their professional firefighters' helmets. The firefighters Sinsey Kissouna, Maïté Gouin and Yannick Webster, who are part of the class of 2023, also received their professional helmets.
Letters of congratulations to certain men and women in the ranks for their loyal service were also presented. Sergeant Burnet, Corporal Puech and Sapper Richardson were honoured for a remarkable intervention that brought back to life injured persons in cardiac arrest; Master Corporal Brooks and Corporal Célaire, from the Groupement de Reconnaissance et d'Intervention en Milieux Périlleux (GRIMP), were also congratulated for their courage during a dangerous intervention on the cliffs of Anse Marcel to rescue a victim.
Congratulation letters were also presented to fireman Celliez, the centre's volunteer firemen representative, mechanics Moutou and Stanford who ensure the daily good functioning of all the equipment and materials; to Mr Fleming and Staff Sergeant Dormoy, in charge of human resources, as well as to Staff Sergeant Richardson and Sergeant Rollan, in charge of the centre's logistics and external relations.
Finally, Staff Sergeant Fleming and Sappers Philistin and Carty were congratulated for having serviced all the fire hydrants in the area. All these people play a vital role in ensuring that the centre functions optimally. "It's a whole team that works every day, 24 hours a day, to help the population", commented Commandant Pallud.
The ceremony concluded at the end of the morning with speeches by the officials, during which the forthcoming evolution of the fire station into a Territorial Fire and Rescue Service was widely discussed. The occasion was also an opportunity to hand over the keys of two brand new ambulances.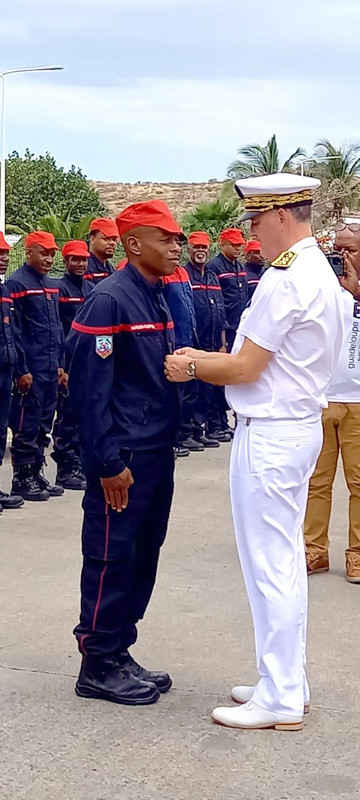 Newly-promoted Commandant Cyril Pallud receiving his stripes from Préfet Vincent Berton.