Airport personnel preparing the plane to be towed back to the apron.
PHILIPSBURG—A KLM Airbus Flight 729 encountered a nose wheel steering system malfunction for the second time on Sunday, after it was deemed repaired in the afternoon. As a result of the pilot not being able to turn the plane to move it into position to take off, it was not able to take off.
The KLM Airbus got stuck on the same spot from where it was towed just after landing around 3:30pm to the main apron to have the nose wheel steering system repaired. After the problem was deemed solved, the system failed again after the plane had successfully made two turns. Upon the third turn, to get the plane in the right position on the runway for take-off, the system failed again.
The nose wheel steering system is only used while an airplane is on the ground, for the pilot to be able to maneuver the plane during taxiing. Whenever the plane is moving at 80 knots (148 km/hour) the pilot controls the plane manually. Below 80 knots the computerized nose wheel steering system takes over and the pilot depends on this system to steer the plane towards the apron.
Apart from the Airbus not being able to move from its spot on the runway by itself the second time around, there was an additional problem with the plane now being too heavy to be towed. Just before 259 passengers had embarked for their flight to Amsterdam, the plane had taken up fuel, adding 39 tons of kerosene to the 7 tons remaining upon landing in the afternoon.
Around 19:30 it was decided to have all passengers disembark the plane to be returned to the airport terminal building by bus. Currently KLM Airbus Flight 729 remains stuck on the runway. While the runway is closed, airport crew are busy trying to tow the plane back to the apron. Technicians are awaiting the arrival of the plane to start repairs.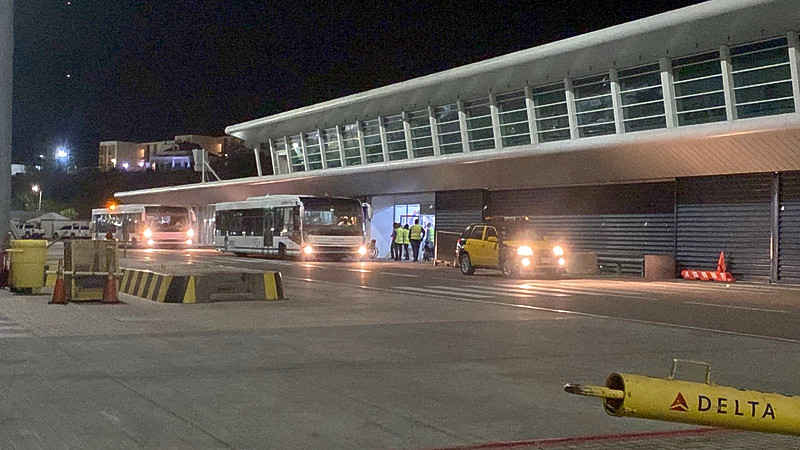 The first two buses with passengers from the stranded KLM Airbus Flight 729 arriving at the airport terminal building early Sunday evening.