Elementary school representatives invited to experience the new educational game were able to play the life-sized version of HURRYcane Run.
PHILIPSBURG--HURRYcane Run, a board game that teaches children about hurricane preparedness, is now available for pupils to play in their elementary schools.
This was shared in a press release from UNICEF to the Netherlands on Tuesday.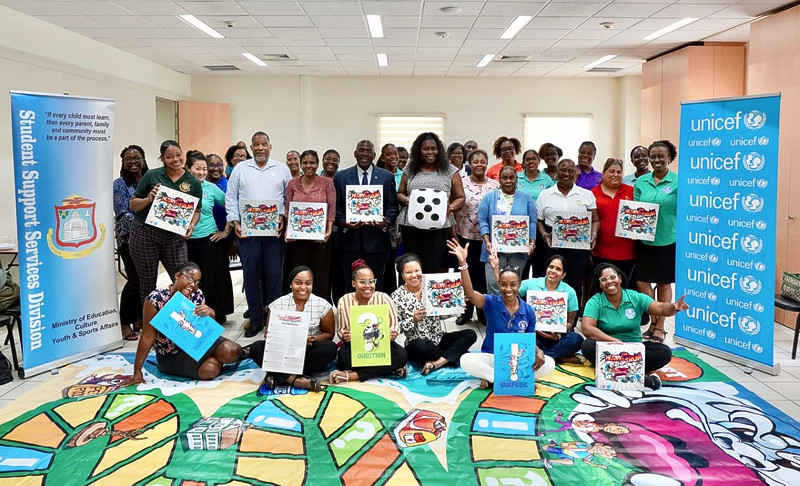 Minister Samuel (MECYS), SSSD, and UNICEF NL presented the HURRYcane Run to representatives of elementary schools on St. Maarten.
HURRYcane Run is developed by the Student Support Services Division (SSSD) and UNICEF the Netherlands (UNICEF NL) to strengthen school disaster and hurricane preparedness.
Elementary school representatives were invited to experience the new educational game first hand. Several attendees commented, "Even us, as adults, learned new facts about hurricane preparedness while playing this game!"
Olga Mussington-Service, Head of SSSD, welcomed all representatives. "I hope you enjoy playing this game and feel it is useful in your classrooms. School Safety is a priority for us, and it is through the hard work and involvement of our teachers and school staff that we continue to improve school safety on St. Maarten," she shared with attendees.
Artistic Drive created the artwork for the game, and it matches SSSD's Safety Ambassadors Programme, a student-centred disaster risk reduction programme for fifth and sixth-grade pupils.
"HURRYcane Run is a welcome extension of the work we have been doing to prepare our students for hurricane season," expressed several educators.
After attendees finished playing a round of HURRYcane Run, schools were formally presented with copies of the game by the Minister of Education, Culture, Youth and Sport Rodolphe Samuel. "We cannot avoid another disaster; therefore, we must cement preparedness in our schools. I commend the hard work of SSSD and the support of UNICEF the Netherlands in creatively reaching this goal," said the minister.
This activity is part of the Child Resilience and Protection Project (CRPP) executed by UNICEF the Netherlands in collaboration with the government of St. Maarten, financed by the government of the Netherlands through the St. Maarten Trust Fund.