St. Maarten's Minister of Education, Culture, Youth and Sport Rodolphe Samuel was the first passenger to step outside the new terminal at F.D. Roosevelt Airport in St. Eustatius on Saturday, June 19.

ST. EUSTATIUS--The first flights arrived and departed from the new passenger terminal at F.D. Roosevelt Airport in St. Eustatius on Saturday, June 19.
Windward Islands Airways International Winair had the honour of being the first airline to bring passengers to and take them from the new airport terminal. With this, the transition from the old to the new airport terminal has started.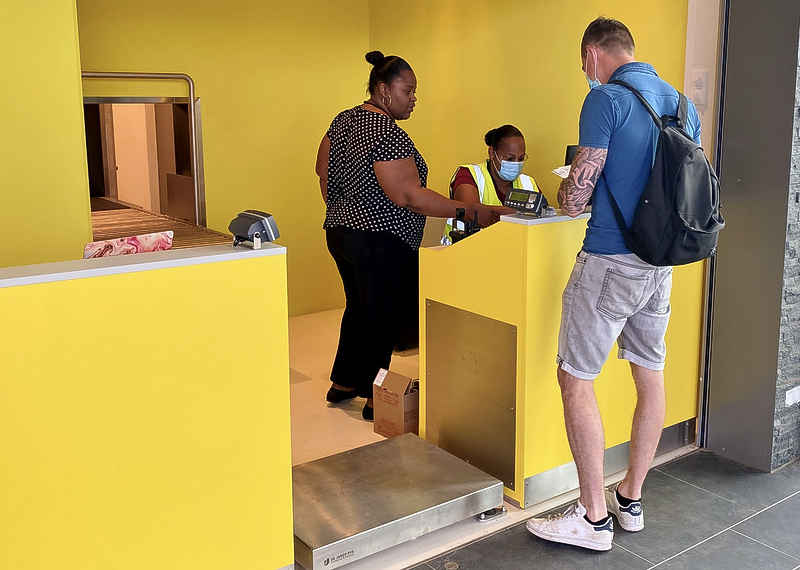 A passenger checking in for the first Winair flight from the new airport terminal.
Airport Manager Darren Wilson and project manager for new terminal Maldwyn Timber, who also works for the Economy, Nature and Infrastructure (ENI) Directorate, were both on hand to make sure this soft opening of the new terminal took place without any problem.
Nigel Paul, Julien Doval and Stephen Sala of Shared Service Organisation Caribbean Netherlands (SSOCN) were on site to facilitate the transition.
The passengers arriving from St. Maarten were excited to be the first to arrive in Statia and be part of the transition to the new airport.
"It is awesome to be on this first flight out of Statia through the new terminal. The airport is beautiful and the check-in and security functioned perfectly," said long-time Statia resident Marianne van der Reest, who departed for St. Maarten.