St. Maarten student Armani France (right), Minister Plenipotentiary Rene Violenus (second from right), Councillor of the District City Centre Lotte Terwel (centre) and two Bonaire students at the City Hall in Amsterdam Thursday. (Suzanne Koelega photos)
AMSTERDAM--The Municipality Amsterdam on Thursday yet again welcomed the group of new students from the Dutch Caribbean to the city. Twenty students from Aruba, Bonaire, Curaçao and St. Maarten are starting their studies in Amsterdam shortly.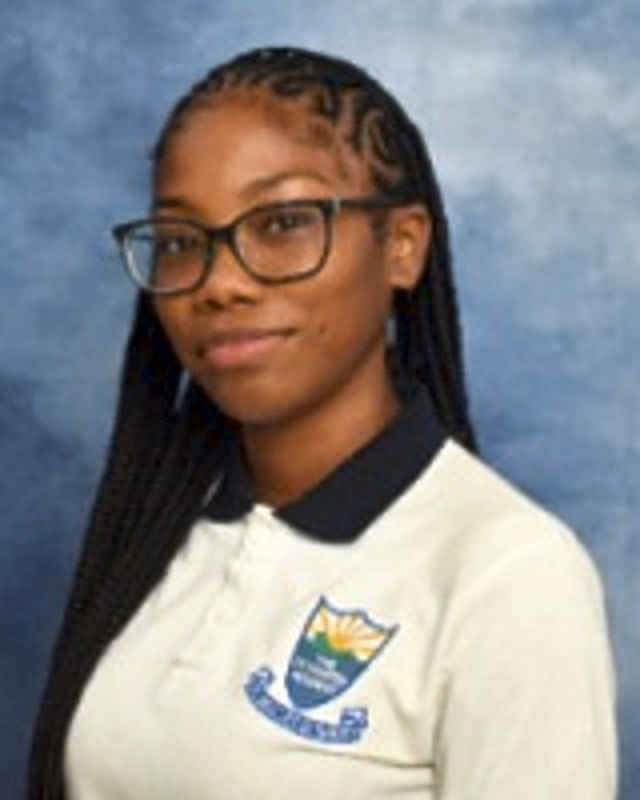 The 20 Dutch Caribbean students who are taking up their studies in Amsterdam with Ministers Plenipotentiary Ady Thijsen of Aruba, Carlson Manuel of Curaçao and Rene Violenus of St. Maarten and Councillor of the District City Centre Lotte Terwel.
For the 12th time Amsterdam received the new students at the Municipal Council Hall. This annual gesture confirms that Amsterdam finds it important that the new students feel at home and to give them a good start. It is a tradition that the city is proud of and it wants to emphasise the special relation that it has with the Caribbean part of the Kingdom.
This time, Councillor of the District City Centre Lotte Terwel hosted the festive ceremony. The students, student mentors and counsellors, Ministers Plenipotentiary Ady Thijsen of Aruba, Carlson Manuel of Curaçao and Rene Violenus of St. Maarten, took a seat in the chairs of the members of the Municipal Council for the official programme. The ministers had a photo opportunity with the 14 students from Aruba, three from Curaçao, two from Bonaire and one from St. Maarten.
The sole student from St. Maarten was Armani France, second-year student communication science at the University of Amsterdam. Last year, he could not attend the annual ceremony at the City Hall, but decided to do so this year. He is a buddy to a newcomer from St. Maarten, but that student was unable to attend.
France, a former student of St. Maarten Academy and St. Dominic School, came to the Netherlands in August 2022. He said he is pretty settled in already and enjoys his freedom, living on his own in a studio. The first year had its challenges.
"It was a much different experience than I had anticipated. You can say it was a culture shock. The weather played a big role in this, but also the people are very different. But after a while, you get accustomed to it," France told The Daily Herald.
Asked how his studies went the first year, France said that the first semester was a "shocker." "In St. Maarten, I was a really good student. But in Amsterdam, my grades didn't match my potential and weren't to what I was accustomed to reach. Because my results were not optimal to what I wanted to achieve, I changed my ways of studying, and my grades went up. I got all 60 study points in the first year, and now I'm an honour student," said France.
When offered the opportunity by MC Tanja Fraai during Thursday's programme to give the new group of students some advice, France gave them two main tips: be on time and budget carefully. "The Netherlands is not a place to be late. Also, guard your money well and don't spend your rent on shopping."
Councillor Terwel in her short speech encouraged the students to support each other, to meet new people, to persevere and to start this adventure with an open mind. She quoted well-known
Curaçao singer and song writer Izaline Calister who during the commemoration concert in Amsterdam last Sunday for the Curaçao slavery revolt leader and freedom fighter Tula told the audience to search for the Tula in themselves and to let the inner strength lead.
Inspirational speaker and second year pharmaceutical sciences at the Vrije Universiteit Amsterdam Claire Dumfries from Aruba told the students to be proud of themselves for having taken the big step to come study in the Netherlands, far away from home.
Dumfries assured the students that they were not alone and that there was help, which they should not be afraid to ask for in times of need. Just as St. Maarten student France did, she advised the students to keep a close watch on their money and to keep some aside for emergencies.
Dumfries also said that it was important to keep to deadlines, to start on time with important school assignments and to make a schedule. Lastly, she encouraged the students to also have fun. "Don't sit in your room all day on free days. Go out, explore, meet people. There is so much to do in Amsterdam."
Ministers Plenipotentiary Violenus, Thijsen and Manuel addressed the issue of brain drain and the importance of students to return to their island upon completion of their studies to help build their country. The official programme was closed off with the customary Amsterdam quiz where the students could test their knowledge about the city. Well-known TV anchor of Curaçao descent Milouska Meulens presented a gift to the quiz winner, student Ian from Aruba. Many students passed by the information market with various education institutes and counsellor organisati