Travel agents mixing at the "meet and greet" in the Grand Case Beach Club conference centre on Thursday. (Robert Luckock photos)
MARIGOT--St. Martin Tourism Office is hosting 73 international travel agents for the second edition of its "Fly In" programme which was implemented to replace the former St. Martin/St. Maarten Annual Regional Tradeshow (SMART). The event has been about four months in the planning stage.
The business end of the travel agents' visit took place at Grand Case Beach Club conference centre Thursday afternoon with the agents replicating a trade show format to have one-to-one meetings with hotels to discuss pricing, contracts and so forth. Some 20 hotel or villa representatives from the French side took part in this trade show meeting. The Dutch St. Maarten Tourist Bureau was also present.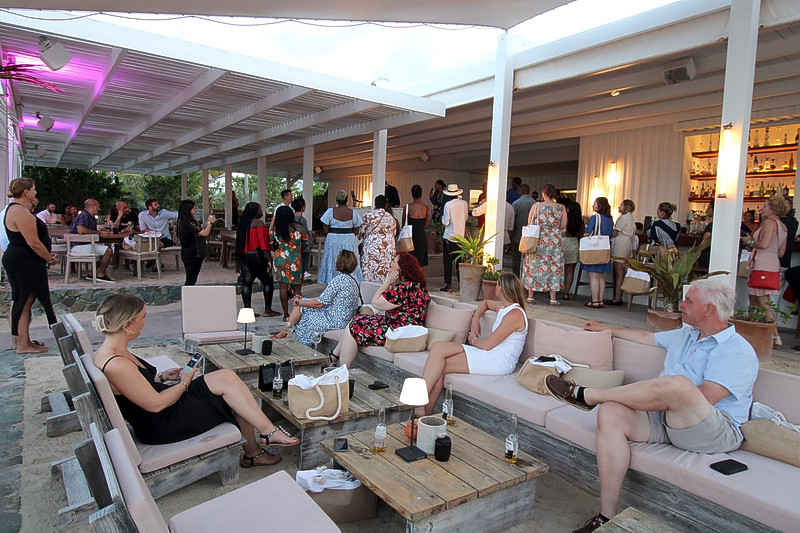 Coco Beach hosted the welcome reception on Wednesday evening.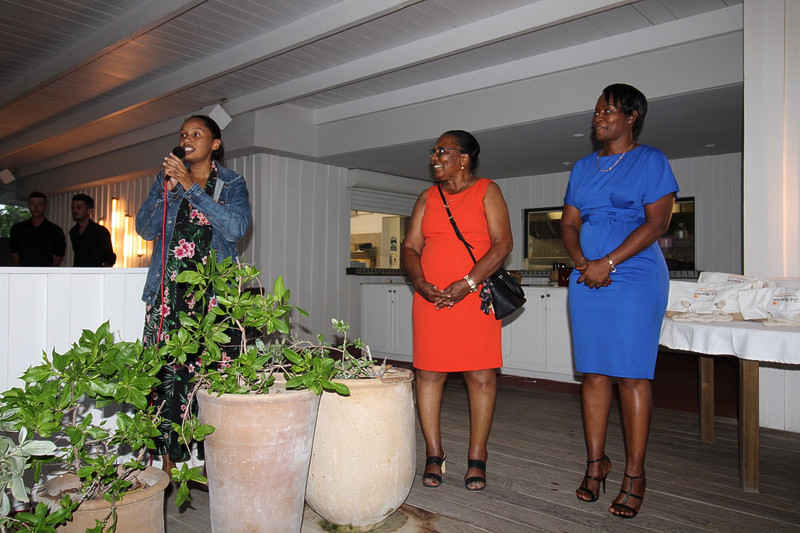 St. Martin Tourism Director Aïda Weinum welcomes the travel agents at Coco Beach as Tourism Office Vice President Bernadette Davis (centre) and Tourism Office President Valérie Damaseau (right) look on.
The benefit of this trade show format is that it facilitates direct bookings, travel agent to hotelier; there were no tour operators or third parties involved.
A welcome reception was held at Coco Beach, Orient Bay, on Wednesday evening. The travel agents coming from around the world will be familiarising themselves with hotels, restaurants, and activities on the French side. They hail from USA, Canada, Brazil, Argentina, Chile, Colombia, France, Netherlands, Norway, Denmark, Sweden, and the regional markets of Guadeloupe and Martinique.
Scandinavia is a new market that St. Martin Tourism Office is keen to promote. Frid B. Nordheim from the agency Nordmannsreiser is one of three travel agents from Norway, with two from Denmark and one from Sweden.
"I had only been here before on a cruise ship stopover, seeing only Philipsburg for the day, so it's my first time to stay here," said Frid who is staying at Orient Beach Hotel. "There's definitely an appetite for Norwegians to vacation in the Caribbean particularly as it's so cold and dreary most of the year where we are.
"We love the hotel and one of our group does kite surfing so it's perfect to be on Orient Beach. We had a great party at Coco Beach, good vibes and a lot of Caribbean dancing!"
Most of the agents are staying for a week, except for Guadeloupe and Martinique agents who will stay four nights only. The host hotels accommodating the travel agents are Secrets in Anse Marcel, La Playa, Orient Bay Beach Hotel, and Anse Marcel Beach.
The agents will be selling the island for the low season and high season. They are all provided with rental cars to carry out their hotel site inspections, enjoy restaurants and activities. While on the island they will be accompanied by the tourism office's overseas representatives Cindi Miller from the Portfolio Marketing Group, New York; Monica Garcia from Jesson and Co, Canada;
Patrick Defit from Market One representing Guadeloupe and Martinique; and representative agents from Chile, Colombia, Argentina, and Brazil.
"They are very free to do what they want without being micro-managed daily on what to see and do by the tourism office, and that's part of the 'Friendly Island' concept, and we feel the island is safe to give them that freedom," said Tourism Office Communications Head Ricardo Bethel.
On Friday, June 16, the agents will have the choice to visit the Dutch side, Saba, St. Eustatius, and Anguilla, thanks to a partnership agreement put in place. St. Eustatius will be receiving six travel agents, Saba 22, the Dutch side 19 and Anguilla the remainder.
"It's important for the travel agents to know it doesn't just stop at St. Martin but it's possible to discover these other islands that are just a day trip away, and that gives added value to tourists vacationing in St. Martin," Bethel emphasised.
St. Martin Tourism Office Director Aïda Weinum, accompanied by Tourism Office President Valérie Damaseau and Bernadette Davis wearing two hats (Second Vice President of the Collectivité and Tourism Office Vice President), gave the welcoming remarks to the travel agents at Coco Beach. Weinum spoke in English, French, Spanish and Portuguese, joking that she needed to work on the latter one a bit more.
"Fly In" has seen a significant step up in participation; last year fewer than 40 travel agents participated and the tourism office anticipates it will increase again next year as well.
The closing party is at Secrets Hotel this evening (Friday).